nubia Red Magic 6 will charge from 0 to 50% in 5 minutes
<!–– ERROR Retrieving Feed 2872 ––> 2513 Imported from a malfunctioning feed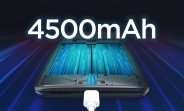 nubia is about to launch the Red Magic 6 gaming series on March 4. The lineup is expected to have a Pro and vanilla options, and the former was teased and subsequently confirmed to pack 120W fast-charging capabilities.

Today, the brand's CEO Ni Fei revealed the Red Magic 6 Pro will also ship with the proper charger in the box and explained it would allow the phone to charge from 0 to 50% in just 5 minutes.



Mr. Fei explained that while some companies either don't include a charger at all or put a slower adapter in the retail box, this won't be the case with the Red Magic 6 Pro. The...
<!––NOFDP 2825 ––>