Yonhap: LG has put the rollable phone project on hold
<!–– ERROR Retrieving Feed 2872 ––> 2513 Imported from a malfunctioning feed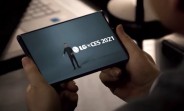 A report from last month claimed that LG is weighing its options for the rollable phone it showed off at CES 2021. Now Yonhap reports that the decision has been made to mothball the project.

LG has told its parts suppliers to put work on the rollable phone on hold, according to insiders quoted by the Korean news agency. This includes BOE, which was contracted to make the display. The suppliers may seek compensation for the work they have already done. LG has made no official comment on the matter.

This device was part of the ambitious Explorer Project, which was supposed to deliver a...
<!––NOFDP 2825 ––>