ZTE exec demoes new under-display camera ahead of MWC Shanghai
<!–– ERROR Retrieving Feed 2872 ––> 2513 Imported from a malfunctioning feed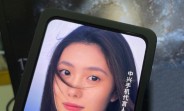 ZTE Axon 20 was the first smartphone in the world with a selfie camera under the display, but the iamge quality was less than stellar. Now, the Chinese manufacturer has improved the technology and will introduce the Axon 30 Pro 5G at MWC Shanghai, with far superior performance.

Ni Fei, the President of Mobile Devices at ZTE, has posted a teaser photo on his personal Weibo profile, revealing the technology indeed does look better. Here's the image which can be zoomed in:



The original image, posted by Ni Fei

The image points to both less visible issues with the panel over the...
<!––NOFDP 2825 ––>