Huawei Mate X2 official unboxing video shows off the phone and its rich retail package
<!–– ERROR Retrieving Feed 2872 ––> 2513 Imported from a malfunctioning feed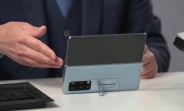 The Huawei Mate X2 was just unveiled and it will become available in China later this week. Unlike certain flagship competitors, the X2 will come in a large, well-stocked retail package. Check out the official unboxing video to see what's inside.

There's the phone, of course, traveling unfolded. Note that there are pre-applied screen protectors on both the inside and outside screen. Further down in the box is the 66W SuperCharger (the phone tops out at 55W, but you can charge laptops with this power brick). You also get a USB-C cable and a USB-C headset.

That's not all – included in the...
<!––NOFDP 2825 ––>