Tablet sales in India rose 14.7% in 2020 due to demand for e-learning
<!–– ERROR Retrieving Feed 2872 ––> 2513 Imported from a malfunctioning feed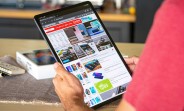 The International Data Corporation (IDC) has posted its analysis on India's tablet sales for 2020, revealing an impressive 14.7% growth, totaling 2.8 million units. The demand was primarily for tablets priced under $200 - with over half of total shipments in this price range.



Lenovo remained the leader in 2020 ahead of Samsung and Apple but lost a huge chunk of its lead. The company saw a 15% decline in overall sales, while Samsung grew 157%. The iPad market share remained similar to 2019, with a slight decline in total units.

The vendor iBall was third in 2019, but due to an issue...
<!––NOFDP 2825 ––>