Verizon's LG V60 ThinQ 5G UW is now receiving the Android 11 update
<!–– ERROR Retrieving Feed 2872 ––> 2513 Imported from a malfunctioning feed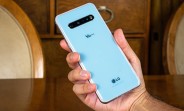 There are companies who are very good at timely Android updates, there are companies who are quite bad at that, and then there's LG. The Korean firm has only sent out an update to Android 11 to the Velvet so far, but even for that model the new software only rolled out in South Korea.

Today marks the start of LG's second ever Android 11 rollout, this time for Verizon's V60 ThinQ 5G UW units. This is also the first LG device in the US to receive an Android 11 update, almost half a year after Google first released the finalized version of the OS.



Anyway, that aside, Verizon has...
<!––NOFDP 2825 ––>