iPhone 13 mini prototype photographed, the two cameras are now laid out diagonally
<!–– ERROR Retrieving Feed 2872 ––> 2513 Imported from a malfunctioning feed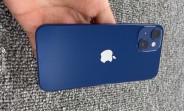 Last week we saw renders of the iPhone 13 mini, which showed a slightly redesigned camera with the two lenses in a diagonal arrangement instead of one over the other. The latest leak, a hands-on photo of a prototype mini, shows just that same design and lends credibility to the renders.

Note that this is just a prototype – Apple is months away from starting mass production of the 13-series, so the design is not set in stone. If Cupertino does settle on this design, it will most likely be carried over to the larger iPhone 13 as well.



Hands-on photo of an iPhone 13 mini...
<!––NOFDP 2825 ––>