Samsung Galaxy Tab S7 FE (previously known as S7 Lite) listed on the Google Play Console
<!–– ERROR Retrieving Feed 2872 ––> 2513 Imported from a malfunctioning feed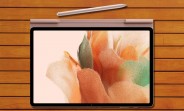 The 'Fan Edition' label may get attached to a new product line at Samsung – the tablet that has been leaking under the name "Galaxy Tab S7 Lite" might actually be called the "Samsung Galaxy Tab S7 FE". The name comes from a Google Play Console listing.



Samsung Galaxy S20 FE (GTS7XLITE) listed on the Google Play Console

It will have the same 10,090 mAh battery (EB-BT975ABY) as the premium Tab S7+ with the same 44W fast charging. Like the S7+, the Fan Edition slate is expected to ship with only a 15W charger. The retail package should include an S Pen, however, which can magnetically...
<!––NOFDP 2825 ––>