Sony Xperia Ace 2 appears on Google Play with Helio P35
<!–– ERROR Retrieving Feed 2872 ––> 2513 Imported from a malfunctioning feed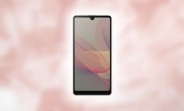 The Sony Xperia Ace 2 is a successor to the compact smartphone that remained exclusive to Japan. The phone appeared on Google Play Console and what we see is somewhat underwhelming - a modest Mediatek chipset and unimpressive screen resolution.



Sony Xperia Ace II on Google Play Console

The SO-41B smartphone, confirmed to arrive on sale under the name Xperia Ace II, has been certified with a Mediatek MT6765 chipset, which is the Helio P35 platform (that means no 5G connectivity). The RAM is 4GB although larger versions aren't ruled out.

The screen's resolution is 1496 x 720...
<!––NOFDP 2825 ––>