The vivo iQOO Neo5 Life will arrive with Snapdragon 870 on May 24
<!–– ERROR Retrieving Feed 2872 ––> 2513 Imported from a malfunctioning feed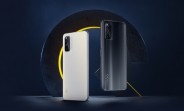 The vivo iQOO Neo5 is getting a spinoff, called iQOO Neo5 Life. The new device has appeared on the company website, confirming its launch date of May 24.

Some specs like the chipset and the storage have been revealed and the actual phone has even been pictured, albeit only from the back.




vivo iQOO Neo5 Vitality teasers

The Life edition of the iQOO Neo5 is obviously a more affordable variant. This phone will be powered by a Snapdragon 870 chipset, but since the FP sensor is on the side, it's likely going to have an LCD on the front. A vivo iQOO phone has already appeared on...
<!––NOFDP 2825 ––>