The Realme C25s has a 48MP camera outside India
<!–– ERROR Retrieving Feed 2872 ––> 2513 Imported from a malfunctioning feed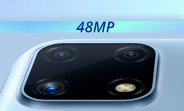 The Realme C25s was announced for the Indian market yesterday. It is coming to a few other countries as well, but there the phone will have a different main camera – 48MP instead of 13MP. So far we've spotted the upgraded model in Cambodia and Malaysia.

This sort of inconsistency shouldn't come as a surprise anymore, the Realme C25 was the same way – 13MP main camera in India, 48MP elsewhere. Either way, the two phones are nearly identical except the "s" model gets the faster Helio G85 chipset instead of the G70.



Anyway, the Realme C25s will cost MYR700 in Malaysia and $190 in...
<!––NOFDP 2825 ––>