Samsung to detail Galaxy Watch with Wear OS on June 28
<!–– ERROR Retrieving Feed 2872 ––> 2513 Imported from a malfunctioning feed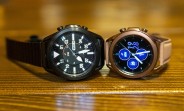 Samsung is attending MWC in Barcelona this year, but will do it virtually. During the first day of the conference, June 28, the company will hold a Galaxy Experience keynote which will reveal the latest in Galaxy ecosystem, new watch experience and mobile security.

Yes, that is correct - Samsung is planning to tell us more about its new Galaxy smartwatches that will now launch with Wear OS.



According to the official description, Samsung is "reimagining smartwatches, creating new opportunities for both developers and consumers". It is also enhancing security, as well as empowering...
<!––NOFDP 2825 ––>