Gionee StylFit GSW7 unveiled in India: an affordable watch with SpO2 tracking, IP67 rating
<!–– ERROR Retrieving Feed 2872 ––> 2513 Imported from a malfunctioning feed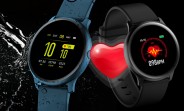 Gionee unveiled a new smartwatch for India – the StylFit GSW7. It has a round body, unlike the rectangular GSW5, and is less bulky than the Gionee Watch 4. It runs proprietary software called Gbuddy, which talks the to corresponding Gbuddy Smart Life app available for Android (5.1+) and iOS (9.0+).






Gionee StylFit GSW7 • 9.6 mm thick • It pairs with the Gbuddy Smart Life App

The watch features a 1.3" LCD display with 240 x 240 px resolution. Unfortunately, the screen is covered with plain glass. The watch measures 50 x 45 mm and it is quite thin and light, clocking in at just...
<!––NOFDP 2825 ––>