Samsung Galaxy Z Fold3 and Z Flip3 display sizes confirmed by another leak
<!–– ERROR Retrieving Feed 2872 ––> 2513 Imported from a malfunctioning feed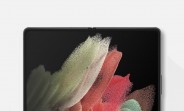 We've heard the rumors before so the report from the reputable Korean media ETNews comes out as a confirmation about the upcoming Galaxy Z Fold3's and Z Flip3's display sizes.



According to the inside sources, the Galaxy Z Fold3's external display will measure 6.23" in diagonal while the inner, extended display will go up to 7.55". In other words, there won't be any changes in size, just expect a more compact overall device.

The Galaxy Z Flip3, on the other hand, will get a larger 1.9" external display, coming from 1.1" on the original Z Flip. The main, inner panel, however, remains...
<!––NOFDP 2825 ––>