The Infinix Concept Phone 2021 supports 160W fast charging, goes from 0-100% in 10 minutes
<!–– ERROR Retrieving Feed 2872 ––> 2513 Imported from a malfunctioning feed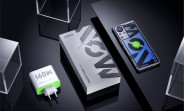 The Infinix Concept Phone 2021 joins the fast charging race with a bespoke 160W system that can fully charge the 4,000 mAh battery in just 10 minutes. This phone also serves as a showcase of other features Infinix is working on, including color changing technology to liven up the rear panel.



The Ultra Flash Charge system is built around an 8C battery, which has 18% lower internal resistance compared to a 6C battery, according to the company. These so-called "C-rate" numbers indicate how fast a lithium battery can be charged or discharged.

The company developed the Super Charge...
<!––NOFDP 2825 ––>