First Huawei P50 hands-on photos pop up online
<!–– ERROR Retrieving Feed 2872 ––> 2513 Imported from a malfunctioning feed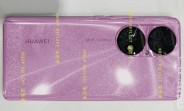 The Huawei P50 will arrive in late July and rumors point to three members. The company has teased the camera setup, and today we have the first live photo.

A phone in dazzling sparkling Pink color has appeared online, showing us what the dual-circle solution looks like in real life. There are three cameras at the top, while at the bottom we have a periscope cam.




Huawei P50 camera

Leica might've released its own-branded phone for the Japanese market, but it looks like the partnership with Huawei will continue for the P50 series as well, just like we were promised earlier.

The...
<!––NOFDP 2825 ––>