Samsung Galaxy Buds2 to cost $149-$169
<!–– ERROR Retrieving Feed 2872 ––> 2513 Imported from a malfunctioning feed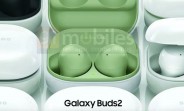 The Samsung Galaxy Buds2 are reportedly coming in August and according to the latest report they'll be priced between $149 and $169, making them more of a Galaxy Buds+ replacement than a Galaxy Buds Pro successor.

The Galaxy Buds+ launched at $149 (currently $99), while the Galaxy Buds Pro launched at $199.



We've seen press renders of the Galaxy Buds2 in Black, Purple, Green and White (the case itself is white, while the inside is accented).

The buds themselves feature a Galaxy Buds Pro-like design. They'll reportedly not have active noise cancellation in order to keep the price...
<!––NOFDP 2825 ––>