vivo Watch 2's leaked image reveals circular design and calling support
<!–– ERROR Retrieving Feed 2872 ––> 2513 Imported from a malfunctioning feed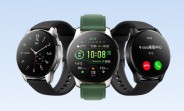 The vivo Watch announced last September is due for a successor. And while we await more information from vivo about its second-gen smartwatch, a render and a few specs of the vivo Watch 2 have surfaced, suggesting its launch isn't too far now.

The vivo Watch 2's image reveals the smartwatch will have a circular design and come with leather and silicone strap options.

You can see three watches in the picture, with the one in the center confirming heart rate monitoring, step counter, and in-built GPS on the vivo Watch 2, while the one on the right reveals voice call support. That's hardly...
<!––NOFDP 2825 ––>