Vodafone and Three are bringing back EU roaming charges along with EE in 2022
<!–– ERROR Retrieving Feed 2872 ––> 2513 Imported from a malfunctioning feed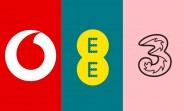 It's not just EE, the other two major British carriers will also reinstate roaming fees for those who travel in the EU – there will be £2 a day fee if they want to make calls and use data. This will apply to new customers and those upgrading their plan.

Vodafone is set to start collecting the fee from January, EE was also looking at the first month of 2022, but pushed that back to March. Three will add back the fee in late May.

The EU dropped roaming charges within the Union back in 2017, but UK carriers are no longer subject to that after Brexit.



Both EE and Vodafone will allow...
<!––NOFDP 2825 ––>