2021 Winners and losers: Oppo
<!–– ERROR Retrieving Feed 2872 ––> 2513 Imported from a malfunctioning feed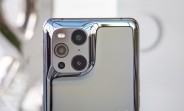 While the first members of the Oppo Reno5 series arrived in 2020, some did so quite late (including one on December 31) and others launched in 2021. This year we also saw the Reno6 and recently the Reno7 series. There were many launches in the A and F series as well, but we'll try to condense the best and the worst of Oppo's 2021 here.

Winner: Oppo Find X3 Pro

Let's start with the best, otherwise known as the Oppo Find X3 Pro. The phone was unveiled in March and it flaunted a meticulously crafted design and custom camera hardware.



The design won a Red Dot Award, in no small part...
<!––NOFDP 2825 ––>