Meta demos Project Cambria VR headset with full color pass-through
<!–– ERROR Retrieving Feed 2872 ––> 2513 Imported from a malfunctioning feed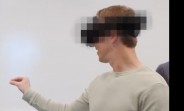 Last year Meta started building its Presence Platform on the Quest VR headset, which has limited mixed reality capabilities. It can, for example, show your real keyboard in your virtual work environment. Or it can anchor virtual objects to real life places, e.g. if you put a virtual chess board on your coffee table, it will stay there between sessions.

The company is working on a much more advanced headset, which is know as "Project Cambria" for now. It will take the mixed reality capabilities of the Quest to the next level.

The new headset will have better cameras, which will allow for...
<!––NOFDP 2825 ––>