Samsung Galaxy Tab S6 Lite (2022) quietly launches with Android 12
<!–– ERROR Retrieving Feed 2872 ––> 2513 Imported from a malfunctioning feed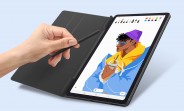 Samsung has quietly come out with another 2022 edition of a 2020 device – the Galaxy Tab S6 Lite slate has been freshened up and is up on Amazon Italy, accepting pre-orders. Shipments and sales will begin on May 23.


Samsung Galaxy Tab S6 Lite (2022)

Comparing the spec sheets of the original and of the 2022 edition, two major things stick out. First is the Android version you get out of the box – the new slate comes with Android 12 instead of 10. The second is the chipset, as a Snapdragon 720G (8nm) replaces the Exynos 9611 (10nm). This means a higher CPU and GPU performance compared...
<!––NOFDP 2825 ––>