Google details Android Auto makeover, split-screen is the new norm
<!–– ERROR Retrieving Feed 2872 ––> 2513 Imported from a malfunctioning feed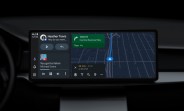 Among the many announcements at this year's I/O conference, Google detailed the new look of Android Auto coming to all users starting later this summer. The big change is that the UI will now adapt to the various car screen sizes and orientations with a default split-screen look. The goal is to give drivers fast and easy control over the three most used aspects of AA – maps, media controls and messaging.




Different screen orientations, same controls

Google Assistant, notifications and your apps library will be easily accessible on the dock and depending on if your car has a...
<!––NOFDP 2825 ––>