OnePlus Ace Speed Edition incoming, will launch on May 17
<!–– ERROR Retrieving Feed 2872 ––> 2513 Imported from a malfunctioning feed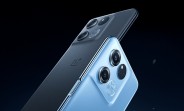 OnePlus announced the Ace smartphone last month, and now it is getting a new sibling that is likely to be a more affordable alternative. The new phone will be called OnePlus Ace Speed Edition and will arrive on May 17, as confirmed by the company.

The announcement on Weibo confirms the launch will be in China, which is no surprise seeing how the Ace is exclusive to its home market. However, it might still make it overseas under a new name.



There are no specs about the phone yet. We can only assume it will have an LCD, given how the fingerprint scanner is on the side. The image also...
<!––NOFDP 2825 ––>