Honor Magic4 Pro in for review
<!–– ERROR Retrieving Feed 2872 ––> 2513 Imported from a malfunctioning feed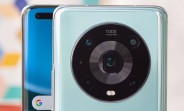 We met up with the Honor Magic4 Pro earlier this year in Barcelona, but the phone was China-exclusive at the time. No more - the Magic4 Pro is now starting its global journey and we have it at the office and in line for a review.

Let's start with an unboxing. The Honor Magic4 Pro comes well-equipped with every accessory you'd need - a charger, USB cable, SIM tool, and a case. The charger is particularly impressive. It's Honor's 100W brick and it can go from 1% to 100% in just 30 minutes.




Everything comes included

So the Magic4 Pro will charge lightning-fast, and we expect it to...
<!––NOFDP 2825 ––>