Weekly poll: can the iQOO 10 and 10 Pro power their ways into your heart?
<!–– ERROR Retrieving Feed 2872 ––> 2513 Imported from a malfunctioning feed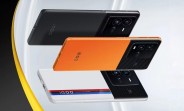 Two hundred Watts – 200W! The announcement of the new iQOO 10 series brought the first phone to push that much power over a USB-C cable and into its battery, which can be fully charged in 10 minutes.



This is with a 4,700mAh battery on the Pro model and is an impressive technological feat. Compared to the iQOO 9 Pro (which had the same capacity), the full charge is twice as fast (10 vs. 20 minutes). Is that a meaningful change or are we firmly in "diminishing returns" territory? And how do you feel about the new iQOOs in general – that's the topic of this week's poll.




Pricing...
<!––NOFDP 2825 ––>