Samsung Galaxy A23 5G could cost €300, leak says
<!–– ERROR Retrieving Feed 2872 ––> 2513 Imported from a malfunctioning feed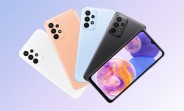 Samsung unveiled the Galaxy A23 smartphone back in March, and we established it wasn't a particularly competitive device. Now, a 5G version with a Snapdragon 695 is on its way, and its price in Europe leaked, revealing the company is about to make the same mistake.

The Samsung Galaxy A23 5G with 64 GB storage will be available in at least three colors for €300.




Samsung Galaxy A23 4G

The new affordable midranger is said to have a 5,000 mAh battery with 25W fast charging, according to a listing on FCC. Other specs include Bluetooth 5.0, a microSD card slot and NFC which might be...
<!––NOFDP 2825 ––>