Tune in to catch our Nothing Phone (1) video review premiere on YouTube
<!–– ERROR Retrieving Feed 2872 ––> 2513 Imported from a malfunctioning feed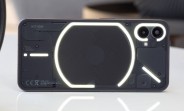 If you haven't already, you should check out our written review of the Nothing Phone (1). But first you may want to tune in for our video review, which will premiere around 16:15 UTC.
Our reviewers will be available answer any questions you may have about the phone. You can ask in the live chat besides the video or (after the premiere is over) in the YouTube comments. Either way, we will try to answer your burning questions about the latest competitor in the smartphone field.






As for the phone itself, we were a bit dubious about Nothing's first smartphone, but the Phone (1)...
<!––NOFDP 2825 ––>