Meta is raising the price of the Quest 2 VR headset by $100
<!–– ERROR Retrieving Feed 2872 ––> 2513 Imported from a malfunctioning feed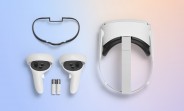 The Meta Quest 2 VR headset launched a little under two years ago at $300, $100 less than the original Quest. We had it good until now, but Meta has decided to raise the prices – starting in August, the 128GB model will cost $400, the 256GB one will be $500.

Yes, "starting in August", meaning that you still have a few days to pick up a headset at the old prices. Note that the price increase will apply globally, not just for the US. Also, Quest 2 accessories and refurbished units will also be going up in price

Anyway, as consolation, Meta will give you a free copy of the popular game...
<!––NOFDP 2825 ––>