The Google Pixel 6a is reportedly unlocking even with unregistered fingerprints
<!–– ERROR Retrieving Feed 2872 ––> 2513 Imported from a malfunctioning feed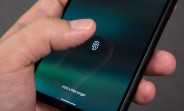 Google's latest Pixel is having some issues, which is a statement you may have heard us say often but this time it may be a bit serious. Reviewers have noticed that the fingerprint sensor on the newly launched Pixel 6a seems to be unlocking even with unregistered prints.

The issue was first brought to light by Beebom on YouTube. In their testing, the Pixel 6a unlocked with the thumb prints of two addition team members even though their prints were never registered.



The findings were corroborated by Geekyranjit on YouTube, where he was able to unlock the phone with both his thumb...
<!––NOFDP 2825 ––>