Samsung Galaxy S23 Ultra rumored to keep the old 10MP 10x periscope module
<!–– ERROR Retrieving Feed 2872 ––> 2513 Imported from a malfunctioning feed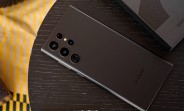 A month ago a rumor claimed that the Galaxy S23 and S23+ will have the same telephoto cameras as their predecessors (10MP 3x), that will be the case with the upcoming Ultra model as well, according to Galaxy Club.

An unconfirmed report claims that the Samsung Galaxy S23 Ultra will have a periscope with 10x magnification and 10MP resolution. Those are the same basic specs as on the S21 Ultra and S22 Ultra (the S20 Ultra had a 48MP 4x periscope cam).

There is still room for image quality improvements, however, Samsung could bring better optics or a lager sensor, for example, certainly...
<!––NOFDP 2825 ––>