Bora Purple colorway for Samsung Galaxy S22 unveiled, coming on August 10
<!–– ERROR Retrieving Feed 2872 ––> 2513 Imported from a malfunctioning feed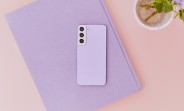 Samsung has used the color purple for multiple Galaxy S generations – the Orchid Gray Galaxy S8 and the Lilac Purple Galaxy S9, for example. Now the Galaxy S22 (just the little one) is getting the purple treatment with a new hue dubbed "Bora Purple".


The new "Bora Purple" colorway for the Samsung Galaxy S22

"Bora" is the Korean word for "purple", so the color is named "purple purple". But let's not focus on that and instead have a closer look. The glass has a matte finish, while the glossy aluminum frame is painted a matching color.

This sets it apart from the Violet color, which...
<!––NOFDP 2825 ––>