Asus Zenfone 9 leaked by Norwegian retailer: specs, images and prices
<!–– ERROR Retrieving Feed 2872 ––> 2513 Imported from a malfunctioning feed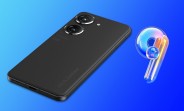 The Asus Zenfone 9 will be unveiled at a global event on July 28 (Thursday) and it seems that it will go on pre-order immediately. We say that because Norwegian site Elkjøp already lists the device, complete with images, a spec sheet and even pricing.

Keep in mind that this page may not be ready for publishing – because it's not supposed to be published yet – so it may contain some inaccurate details. But here is what the Zenfone 9 is supposedly like.






Asus Zenfone 9

It will be relatively small by today's standards, but not all that small. It measures 146.6 x 68.2 x 9.45mm...
<!––NOFDP 2825 ––>