Samsung announces Galaxy S20 Tactical Edition
<!–– ERROR Retrieving Feed 2872 ––> 2513 Imported from a malfunctioning feed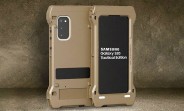 Today, Samsung is announcing its Galaxy S20 Tactical Edition. The company calls it a "mission-ready solution tailored to the unique needs of operators in the federal government and Department of Defense." The Galaxy S20 TE has highly customized software to work in unison with existing tactical equipment along with DualDAR architecture, offering two layers of encryption.





Samsung Galaxy S20 Tactical Edition specs:

Display: 6.2-inch Dynamic AMOLED 3200 x 1440 px QHD+; 60Hz or 120Hz
Chipset: Qualcomm Snapdragon 865
Memory: 12GB/128GB; expandable up to 1TB via microSD
...
<!––NOFDP 2825 ––>