The Realme Band is now available in India, screen brightness bumped up with a software update
<!–– ERROR Retrieving Feed 2872 ––> 2513 Imported from a malfunctioning feed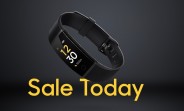 The Realme Band is now available in India. It was originally scheduled to become available on the 28th, but Realme doesn't like to keep its fans waiting.

The band can be ordered today from Realme.com, Flipkart and Amazon India at a price of INR 1,500 (half the listed MSRP). Note that only the band is available only Black and Green, the Yellow (which is the brand's signature color) is coming soon.





Realme Band features • Black and Green color options

Realme's press release about the launch mentions that the screen brightness has been enhanced - when we reviewed the Realme Band,...
<!––NOFDP 2825 ––>