Xiaomi Mi Band 5 rumored to gain SpO2 sensor, Smart version will support Amazon Alexa
<!–– ERROR Retrieving Feed 2872 ––> 2513 Imported from a malfunctioning feed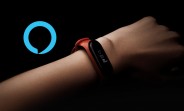 The upcoming Xiaomi Mi Band 5 will enhance the heart rate tracker with SpO2 measurement (blood-oxygen saturation). Additional health features will include menstrual cycle tracking.

The international version was said to gain NFC support, previously exclusive to China. However, some new info casts doubt on global NFC support, but mentions a new "Mi Smart Band 5" version with a model number XMSH11HM (the regular Band 5 will be XMSH10HM).


The current Xiaomi Mi Band 4

The Smart Band will have AI assistant support, specifically Amazon's Alexa. On previous generations, models sold in...
<!––NOFDP 2825 ––>