240Hz display Sharp Aquos Zero 2 now available outside Japan, price revealed
<!–– ERROR Retrieving Feed 2872 ––> 2513 Imported from a malfunctioning feed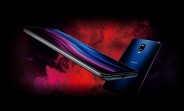 Sharp Aquos Zero 2 was launched back in September as the first phone in the world with a 240Hz refresh rate display. It was initially only available in Japan, but now, it is also coming to Taiwan and we finally know how much will it cost outside of the unique domestic market - TWD21,990, which is about $730/€670.



Sharp equipped the Aquos Zero 2 with Snapdragon 855 chipset, 8 GB RAM, and 256 gigs of storage. The display is 6.4" in diagonal and brings a fingerprint scanner under the OLED panel, protected by Gorilla Glass 6.

The phone might have impressive hardware, but the camera...
<!––NOFDP 2825 ––>