Redmi 10X to have 30x zoom and OIS; camera sample from Pro version arrives
<!–– ERROR Retrieving Feed 2872 ––> 2513 Imported from a malfunctioning feed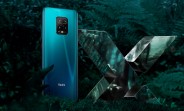 The Redmi 10X lineup will arrive in China on May 26. We expect to see three different phones, and apparently at least one of them will have 30x zoom. This could mean one of the cameras could be 3x telephoto, unless Redmi has something else up its sleeve.

The official Redmi page on Weibo shared the teaser about the 30x zoom and the OIS capabilities of one of the cameras, but it also revealed there will be some AI features for "creative inspiration".

Aside from the fancy background blur and artificial coloring of some images and night shots, we are wondering what is Redmi going to...
<!––NOFDP 2825 ––>