Motorola Edge+ is already $200 cheaper at Verizon
<!–– ERROR Retrieving Feed 2872 ––> 2513 Imported from a malfunctioning feed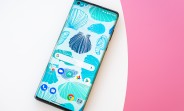 The Motorola Edge+ is still a very new device on Verizon's shelves, having been released around one week ago. And yet, the carrier is already offering a sweet deal on the phone.

Normally priced at $999.99, the Edge+ can now be yours for just $799.92. Note that this may be a limited time offer, but Verizon isn't saying. Even so, it's a bit weird to see a 20% price cut within a week of launch, so this might imply that the carrier hasn't been moving a lot of units at the recommended price.



In our in-depth review of the Edge+, we noted that its price in the US and lack of a lot of...
<!––NOFDP 2825 ––>