Google will add Sleep Habit Tracking and Night Notes to Digital Wellbeing
<!–– ERROR Retrieving Feed 2872 ––> 2513 Imported from a malfunctioning feed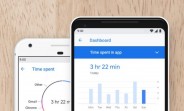 Two years ago, Google introduced its solution to help you keep good digital hygiene and called it Digital Wellbeing. It's now about to get a major update with a few new features, according to an app teardown of the beta version.



The most notable new functionality is probably be the Sleep Habit Tracking. The name is pretty self-explanatory and it uses the default Google Clock app and the phone's motion sensors to determine whether you are sleeping or not. It also tracks which apps you use in bed.




Sleep Habit Tracking

Speaking of activity tracking, Google will give you the...
<!––NOFDP 2825 ––>