Weekly poll: is the Realme X3 SuperZoom the right one for you?
<!–– ERROR Retrieving Feed 2872 ––> 2513 Imported from a malfunctioning feed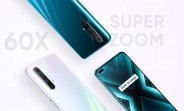 Could it be? A periscope camera on a €500 phone that will be available in Europe, rather than China-exclusive? The Realme X3 SuperZoom makes that a reality and shows that the brand is serious about getting a foothold on the Old Continent.

The periscope lens has 122mm focal length, that's 5x magnification compared to the main camera. Speaking of, the 64MP main cam assists in shooting up to 60x hybrid zoom photos. The phone also boasts two 8MP ultrawide cameras, one on the front and one on the back (the main selfie cam is a 32MP shooter).



While this phone is all about the camera, it...
<!––NOFDP 2825 ––>