Vivo X50 Pro+ flagship pops-up in new leak
<!–– ERROR Retrieving Feed 2872 ––> 2513 Imported from a malfunctioning feed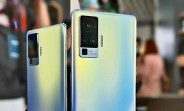 Vivo's new X50 family is just around the corner and should be officially unveiled on June 1. After a myriad of leaks and official teasers, over the last few weeks, we honestly thought that we had a good idea of what to expect from the upcoming vanilla X50 and the X50 Pro. In a fresh new plot twist, though, we now have an image detailing a third X50 Pro+ model. This one - a proper Snapdragon 865 flagship.




vivo X50 lineup specs


A potentially confusing revelation, this new development does explain certain inconsistencies from the last few days. Mainly, the fact that the X50 Pro was...
<!––NOFDP 2825 ––>