Samsung Galaxy Note20's battery could be 4,300 mAh after all
<!–– ERROR Retrieving Feed 2872 ––> 2513 Imported from a malfunctioning feed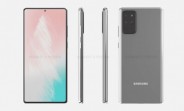 Samsung's Galaxy Note20+ will apparently have a 4,500 mAh battery, but what about the (slightly) smaller Note20? Back in April, word on the streets was 4,000 mAh.

Now though, it looks like Samsung has managed to cram a bit more juice into the Note20's cell. After digging through the Chinese 3C's certification database, the enterprising folks at SamMobile have figured out that the model number for the battery that's going to be used in the Chinese version of the Note20 is EB-BN980ABY. Oh, and its capacity is 4,300 mAh.



That's marginally better than what was thought before, and in...
<!––NOFDP 2825 ––>