Samsung Galaxy A71s 5G UW is headed to Verizon
<!–– ERROR Retrieving Feed 2872 ––> 2513 Imported from a malfunctioning feed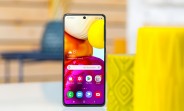 Verizon is getting ready to add another mid-range Samsung smartphone to its 5G roster, complete with support for its ultrafast mmWave network of course. This will be a reinterpreted Galaxy A71, except, unlike the already announced A71 5G, Big Red's model will be powered by a different chipset and have a different name.

It's going to be called Galaxy A71s 5G UW, to fit with what seems to be Verizon's newfound naming scheme (read: tacking "5G UW" to the end of device monikers left and right, where "UW" stands for "UltraWideband" aka mmWave).



The Galaxy A71s 5G UW may very well look...
<!––NOFDP 2825 ––>