Sony to hold another PS5 event on June 4
<!–– ERROR Retrieving Feed 2872 ––> 2513 Imported from a malfunctioning feed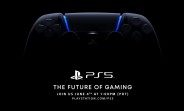 Sony recently detailed much of PS5's specs but it's holding another next week and it gave us a short teaser. It will be held at 1:00PM (PDT) on June 4 and will be streamed via PlayStation's official website.

Join us Thursday, June 4 at 1:00pm Pacific time for a look at the future of gaming on PlayStation 5: https://t.co/Yr8fafcOVd #PS5 pic.twitter.com/F0yBbDmOtC— PlayStation (@PlayStation) May 29, 2020

The teaser suggests that while the previous event was a bit more technical revealing most of the specs of the PS5, this one will be more game-focused.

That's why I'm excited to...
<!––NOFDP 2825 ––>