Realme X3 SuperZoom in for review
<!–– ERROR Retrieving Feed 2872 ––> 2513 Imported from a malfunctioning feed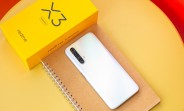 The Realme X2 Pro was launched last year, and its successor as the brand's flagship is actually the Realme X50 Pro 5G. However, the company decided to branch out its X family laterally and earlier this week unveiled the Realme X3 SuperZoom with Snapdragon 855+ chipset for the European market.

We now have the phone with us and the review is already underway, but while you wait we though we'd share our initial impressions of this unique phone.






The X3 SuperZoom is the first Realme device with a periscope telephoto camera - an 8MP sensor behind 122mm lens, which the company marks...
<!––NOFDP 2825 ––>