Haylou Solar review - a hidden smart wearable gem
<!–– ERROR Retrieving Feed 2872 ––> 2513 Imported from a malfunctioning feed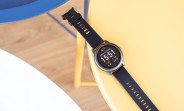 Introduction

Here's the quick version of what the Haylou Solar is - the Xiaomi Mi Band functionality with even better battery life, traditional watch styling and a big round display for around €20. Sounds intriguing? Read on then to see how well it all works.



The Haylou Solar uses an LCD rather than an OLED panel so an always-on display feature is out of the question, so even in that you have feature parity with the Mi Band. Also, despite what the name may lead you to believe there's no Solar charging of any sort here.

Haylou Solar (Haylou LS05) specs

Body: 45.3 x 11.4,...
<!––NOFDP 2825 ––>