Kuo: Apple will ship iPhone 12 without chargers, earphones
<!–– ERROR Retrieving Feed 2872 ––> 2513 Imported from a malfunctioning feed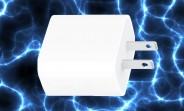 Analyst Ming-Chi Kuo reported that Apple is considering removing the included earbuds from the iPhone 12 retail package back in May. Analysts at Barclays said the same a few days ago and hinted that even the power brick may be dropped, Kuo agrees in his latest research note.

Apple will introduce a 20W charger with USB Power Delivery, says Kuo, which will be sold separately. He didn't forecast a price but the current 18W charger goes for $30. The company will stop production of the current 5W and 18W models.

Apple will likely position this as an eco-friendly move that would result in...
<!––NOFDP 2825 ––>