LG Harmony 4 with Android 10, dual camera and unveiled for Cricket Wireless
<!–– ERROR Retrieving Feed 2872 ––> 2513 Imported from a malfunctioning feed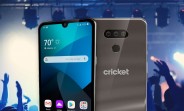 LG released a new affordable Android 10 for Cricket Wireless users - the Harmony 4. The phone is essentially identical to the LG K40S though with a slight redesign and a newer version of the OS (the K40S came out with Android 9).

The phone can be yours for $140 regardless of whether you're a new or an existing customer. For your money you will get a 6.1" 720p+ display. The phone has a metal frame and measures 156.2 x 74.2 x 8.6 mm (6.15 x 2.92 x 0.34 in), weighing 173 g (6.1 oz).






LG Harmony 4 for Cricket Wireless

Android 10 runs on top of on octa-core processor of unknown...
<!––NOFDP 2825 ––>