Here's the 41mm Samsung Galaxy Watch3 in Bronze
<!–– ERROR Retrieving Feed 2872 ––> 2513 Imported from a malfunctioning feed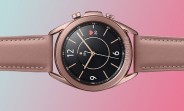 A few days after we saw an official render of the 45mm Samsung Galaxy Watch3 in Silver, we have our first look of the 41mm Galaxy Watch3 in Bronze thanks to evleaks.

Though smaller in diameter, the Watch3 in 41mm looks identical in design to its Silver counterpart. The only difference of note is that the rotating bezel is the same shade of Bronze as the rest of the casing, whereas on the Silver Galaxy Watch3 it's a darker grey.






The rumored 45mm Galaxy Watch3 will have a 1.4-inch display and 340mAh battery, while the 41mm model will have a 1.2-inch display and 247mAh...
<!––NOFDP 2825 ––>